Further details
A short overview of the choir may be found on the introduction page.
Over 125 years of musical excellence
The challenging standards set by the choir on its formation in 1875 have been maintained through two world wars, built upon by twenty-four musical directors and upheld by a stream of committed singers. Despite a change of name in the 1980s, the choir remains as keen as ever to continue the tradition of fine singing and adventurous repertoire for which it became well-known under its original title, The Huddersfield Glee & Madrigal Society (G & M).
A brief history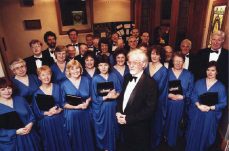 Benjamin Britten, E. J. Moeran and Gustav Holst have conducted us, and Holst dedicated his Wassail Song to the choir. Leslie Woodgate, BBC chorus master, used to come up from London to take rehearsals, returning the same night by overnight sleeper and standing the strain of travelling and directing the choir for twelve years.

Complaints that the choir sings too much modern music go back to the 1930s when 'modern' was Britten, Finzi and Matyás Seiber; in the next millennium, all is forgiven!

In 1916, Lloyd George invited the choir to London to sing at No 10, Downing Street. We are watching Prime Ministers come and go with interest, awaiting another for whom we would like to perform!

Of the twenty-one conductors who led the G & M, the longest-serving was Richard Steinitz, who handed over the baton to Paul Shepherd after fourteen years. During Paul Shepherd's four-year tenure the choir evolved into The Huddersfield Singers, the chamber ensemble of around thirty voices that it is today. Philip Honnor took over the position of conductor in 1990 and became the longest-serving incumbent in the choir's history, occupying the post for an impressive twenty-three years until the end of 2012. During his nearly a quarter of a century in charge of the group, Philip always maintained the highest musical standards and a commendably innovative repertoire, planning all the programmes virtually single-handedly. A radio interview he gave a few years into his tenure still provides an excellent description of the ethos of the choir today.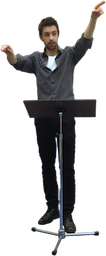 Philip was succeeded at the start of 2013 by Jonathan Brigg, a final-year PhD student who was already making a name for himself as a conductor and composer, having been an outstanding Conducting Scholar with the Huddersfield Choral Society. Unfortunately, Jonathan was obliged to relinquish the post after only a year. Realising that it needed a longer-term successor, the choir took its time in searching for its next conductor; a process that eventually yielded over a dozen high-quality applicants. During the two-concert interregnum, Chris Pulleyn acted as Choirmaster for the choir's weekly rehearsals. Jonathan Brigg made his final appearance as Guest Conductor at the Spring 2014 concert, and for the Summer 2014 concert the choir was delighted to welcome Darius Battiwalla (Deputy Chorusmaster of the Huddersfield Choral Society) as its Guest Conductor.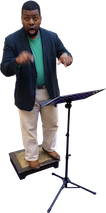 The new conductor appointed from September 2014 was Alexander Douglas: a highly versatile and well qualified conductor, composer and jazz musician. Alex maintained a wide range of interests in a variety of musical genres, and in the same month as starting with the Huddersfield Singers, another of his ensembles was one of just six groups to reach the finals of the BBC's Gospel Choir of the Year. Alex was in charge of the Huddersfield Singers for three seasons, during which time he also ran an interesting and very well received Come and Sing… Gospel event. For its 2017–18 Season the choir has appointed Daniel Gordon as its interim conductor – to be assisted by the choir's President, Susan M. Wilkinson, acting as Deputy Conductor – while a permanent new conductor is recruited.
The choir back in the 1880s did have a considerable degree of polish, and no financial worries: first prizes in competitions could provide funding for a year. Not only were singers' subscriptions unheard of, but the singers were actually paid to attend rehearsals and concerts for a fee of 6d per rehearsal and 26d for a concert, which would be about £5 per rehearsal and £25 for a concert if the same rates applied today. These days, however, choir members are rewarded by the active social life which comes from finding ways of raising money whilst enjoying themselves at the same time.
Carol sings;

Ceilidhs;
French nights;
Barbecues;
Race evenings;

House parties…
Yet we find that the costs of putting on high quality concerts without compromising the repertoire are a constant concern. We are always looking to build our audiences, and we welcome new members to all parts.
Repertoire
The following list of titles is a representative selection of the works we have performed since 1990:
| | | |
| --- | --- | --- |
| Arnold | | A John Clare Cantata |
| Aston | | Hæc Dies |
| Bach | | Magnificat |
| Bernstein | | Chichester Psalms |
| Brahms | | Liebeslieder-Waltzer |
| Britten | | Rejoice in the Lamb |
| Byrd | | Mass for Four Voices |
| Butterworth | | Haworth Moor [commission] |
| Caldara | | Mass in G |
| Charpentier | | Messe de Minuit |
| Coleridge-Taylor | | Hiawatha's Wedding Feast |
| Copland | | In the Beginning |
| Debussy | | Trois Chansons de Charles d'Orléans |
| Duruflé | | Requiem |
| Dvorák | | Mass in D |
| Elgar | | Psalm 48: "Great is the Lord" |
| Fauré | | Messe Basse |
| Finzi | | In Terra Pax |
| Gardner | | Waltzsongs [first performance] |
| Handel | | Coronation Anthems |
| Haydn | | Nelson Mass |
| Janáček | | Otče náš (Our Father) |
| Joubert | | The Martyrdom of St Alban |
| Kodály | | Matra Pictures |
| Lauridsen | | Nocturnes |
| Leighton | | Crucifixus Pro Nobis |
| Martinů | | Primrose |
| Mathias | | Ave Rex |
| Maxwell Davies | | Four Carols from O Magnum Mysterium |
| Moeran | | Six Songs of Springtime |
| Monteverdi | | Beatus Vir |
| Mozart | | Vespræ Solennes |
| Novák, Jan | | Missa Philadelphiæ [first UK performance] |
| Orff | | Carmina Burana |
| Palestrina | | Missa Tu es Petrus |
| Pärt | | Magnificat |
| Paynter | | The Rose |
| Pehkonen | | Russian Requiem |
| Purcell | | Dido and Aeneas |
| Ravel | | Trois Chansons |
| Rorem | | Miracles of Christmas |
| Rossini | | Petite Messe Solennelle |
| Rutter | | Five Childhood Lyrics |
| Saint-Saëns | | Christmas Oratorio |
| Schütz | | The Christmas Story |
| Sculthorpe | | Morning-Song for the Christ Child |
| Seiber | | Yugoslav Folk-songs |
| Smetana | | Píseň Česká (Czech Song) |
| Stainer | | The Crucifixion |
| Stravinsky | | Symphony of Psalms |
| Tate | | Witches and Spells |
| Thompson, Randall | | The Peaceable Kingdom |
| Vaughan Williams | | Three Shakespeare Songs |
| Victoria | | Tenebræ Responsories |
| Vivaldi | | Gloria |
| Williamson | | Six English Lyrics |
| Wills | | The Child for Today |




A selection of reviewers' comments on our concerts can be found on our press clippings page.
Join us!
So, if you live in the vicinity, please come and hear us sing! And if you enjoy singing yourself, why not come along and sing with us? We are always keen to welcome new members of all voice parts.

Rehearsals take place at the Huddersfield Methodist Mission, 15 Lord Street, Huddersfield (see a map) on Monday evenings at 7:30pm, and last for two hours. A moderate level of sight-reading ability is an asset, as the choir takes pride in the wide repertoire it peforms, and is generally more interested in learning unfamiliar music than in repeating recent material. Vast musical experience and expertise is not a requirement, though, as we are an amateur choir. If you enjoy singing and want to spend an enjoyable evening each week in the company of friendly people and interesting music, come along! A short, private audition is involved before joining.

If you would like further details about joining, either come along to a concert and speak to a choir member afterwards, or contact the Recruitment Officer.

For more information about joining, see our recruitment page.
---
On the other pages of this Web site you will be able to find out about many aspects of the choir. If you require further information, however, please take a look at the choir personnel and use the contact details there to get in touch with the appropriate individual.
---